Loading
Map
Motorcycle rentals in Málaga (Spain)
From: 02-19-2020 To: 02-24-2020 [ Change]
From: 02-19-2020 To: 02-24-2020 [ Change]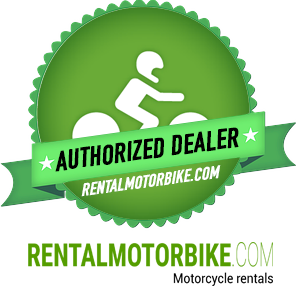 Michael
12-03-2019
Excellent and efficient...
5
Simone
04-28-2019
The site is very user friendly and making a reservation is easy and fast. They are just an intermediate, you select a bi...
5
Peter
02-19-2019
All went perfect. ...
5
Featured opinions
Michael (12-03-2019)
Honda Africa Twin CRF 1000 (5 days)
Francisco from Malaga Moto was absolutely superb. Really helpful, provided lots of additional information on Routes and advice. I would thoroughly recommend him and definitely plan to use Malaga Moto again. Mike MacRae
Alfredo (11-13-2019)
BMW R 1200 GS LC (10 days)
No me pudieron alquilar la moto que había reservado por estar en reparación. Me ofrecieron una moto similar aunque más limitada técnicamente. En principio me decepcionó. Aún así estoy satisfecho. Buena comunicación con los empleados. Nota final positiva.
Susan (10-30-2019)
BMW G 310 R (4 days)
Larios was also good to deal with..we had no hiccups at all..
William (10-15-2019)
BMW R 1200 GS (3 days)
Pick-up and drop off were very good, but each took longer than it might have
Henri (09-25-2019)
Yamaha MT 09 Tracer (4 days)
This is THE place!
Jose (05-21-2019)
BMW F 700 GS (4 days)
They were a 10. Very satisfied.
Simone (04-28-2019)
Yamaha Tracer 700 (2 days)
Wonderful experience. Francisco is an extremely kind and easy guy, very passionate about motorcycles. Although the bike was not the model I selected, it was in perfect conditions and Francisco suggested us some beautiful roads we could travel on.
Van Wassenhoven (03-08-2019)
Peugeot Tweet 125 (4 days)
everything was fine, we were very happy
Peter (02-19-2019)
Honda XL Varadero 1000 ABS (3 days)
Flexible, good communicator.
Arpad (02-19-2019)
Honda XL Varadero 1000 ABS (3 days)
nice people.
Patrick (11-05-2018)
Yamaha TRACER 700 (4 days)
Francisco was brilliant. Really helpful sending us routes to follow in the area and easy to communicate with around pick up times.
Derek (09-27-2018)
Yamaha TRACER 700 (5 days)
Francesco was very helpful. Just after picking up the bikes one seemed to surge on a constant throttle. We contacted him and swapped bikes from a Tracer to a GS as only one available. Swapped again to another Tracer the following day at a place and time to suit everyone.
Oliver (08-29-2018)
Honda CRF 1000 AFRICA TWIN (10 days)
Just perfect
Michal Konopka (08-22-2018)
Peugeot Tweet 125 (6 days)
Good guys. No problem. Smooth and easy.
P.M (06-26-2018)
Yamaha Tenere 660 XTZ (8 days)
Also everthing ok